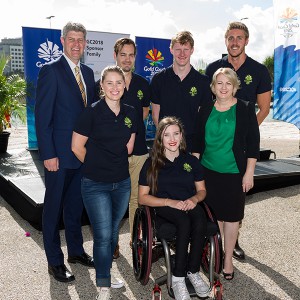 It's two years away, but the Commonwealth Games has unveiled its biggest ever para-sport program. With up to 300 para-sports athletes and 38 medal events across seven sports, it is an increase of 45 per cent in athlete numbers and 73 per cent more medal opportunities compared to the Glasgow Games in 2014. "There will be an equal number of men's and women's events across all seven para-sports," said Queensland Disability Services Minister, Coralee O'Rourke. The sports to be contested include athletics, swimming, lawn bowls, powerlifting, track cycling, table tennis and triathlon. The swimming and athletic programs will be double in size from previous Games.
The Commonwealth Games will be held at the Gold Coast, April 4-15, 2018.
Caption: Commonwealth Games Minister Stirling Hinchliffe, Para-athletes Evan O'Hanlon, Rowan Crothers, Brenden Hall, Maddie Hogan, Sara Tait and Minister for Disability Services Coralee O'Rourke.