Unprecedented times inspired creativity at Bulahdelah Central School with 14 visual arts students devising some thoughtful and significant artworks for their HSC.
The school, which is located in the Great Lakes area of NSW, follows a vertical curriculum program with students completing Years 11 and 12 in one calendar year.
Head of Humanities, Vanessa Shultz told F2L many students lost double the face-to-face teaching time during lockdown. "A further concern ensued where their Visual Art teacher, Sue Cross, considered at risk due to her age, was also isolated from her students for two months.
"However, innovative practice and allocation of extra resources have resulted in the creation of inspiring artworks. Individual studio spaces were established at school and at home. Budgets were redirected into supplying students with essential materials for both artistic spaces and social media platforms were utilised for communication and feedback," she said.
The schools' visual art students emerged from this challenging time, having created memorable and significant artworks that give voice to their eclectic experiences of 2020.
The students, who have varying abilities and backgrounds, channelled their fears and preoccupations with their world into meaningful drawings, paintings, sculptures and etchings. The results are a powerful commendation on the benefits of the arts for mental health, personal development and humanity.
According to Shultz, anxiety has increased during the year and students directed their personal apprehensions into thought provoking artworks. "Students have overcome challenging personal circumstances and have generated artworks indicative of their preoccupations."
Among them was indigenous Optimistic Life Skills student, Harrison Hughes, pictured, who has special needs. He worked diligently to express his fascination with monsters to papier-mâché two metre green dragon.  Harrison believes that friendship can be discovered in unknown creatures and delightfully represented this in his master creation, Terri.
Another student, Celeste Stubbs who has Asperger's, pictured, explored her family's connection to Chile in a feminist collection of the female body and the enforced mask-wearing in such cultures.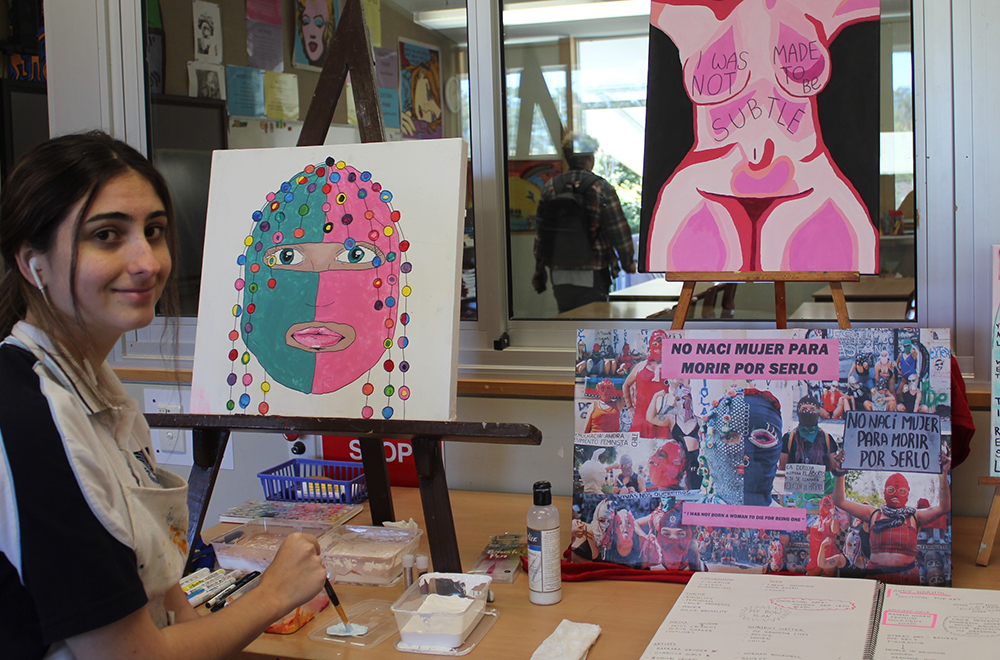 Brendan Wilkinson's personal etchings, pictured, are a compelling representation of mental illness and its ability to hide behind a smiling face.
Abby- Jo Banks' series of five contemporary canvasses, pictured, highlight feelings of anxiety and depression and how family can support and help during difficult times.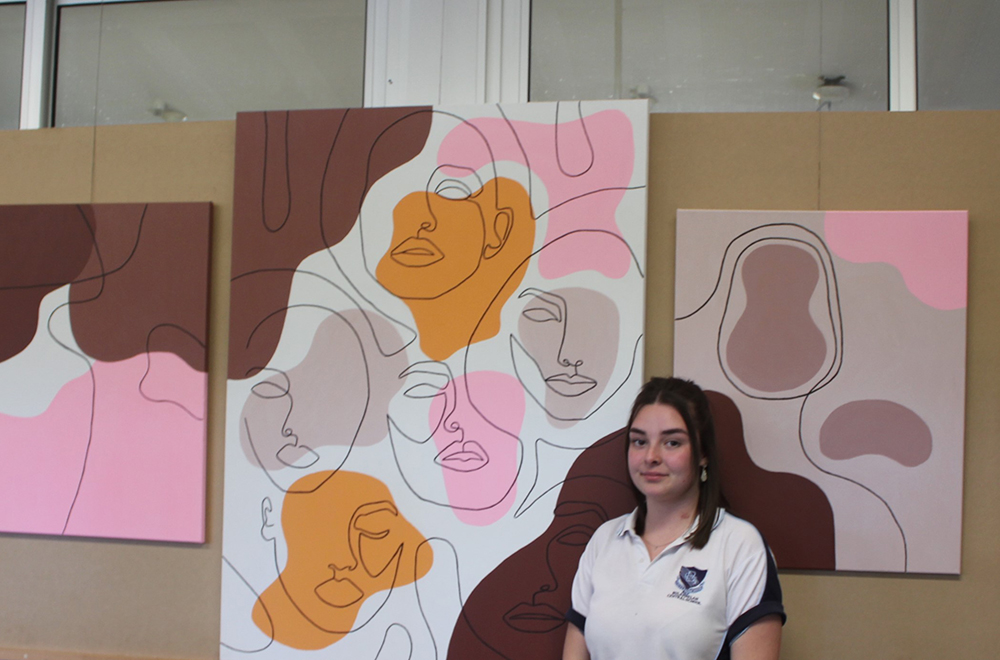 Artworks have been entered into the Galleries in the Gardens Student Art Award. Winners will be announced on October 7 and an exhibition of the works will run at The Gallery in Tea Gardens from October 7-11.