The rain clouds lifted in Sydney just in time to celebrate the 2022 Aspect Recognition Awards. The host for the evening was radio presenter and writer John Doyle who told the audience: "What gives me hope are nights like these and the extraordinary things that can be achieved." Aspect CEO Jacqui Borland also spoke about the importance of the awards to the community. "There are so many people out there doing amazing things. People who are nominated said it has changed their lives and given them the confidence to keep doing what they are doing," she said.
The annual and national awards, now in their sixteenth year are presented in seven categories.
Taking out the Working in Partnership Award was The Experience Collectors Queensland that creates safe and inclusive outdoor adventures for children of all ages, established by two autistic women, Sarah Nelson and Kylie Cox, (pictured).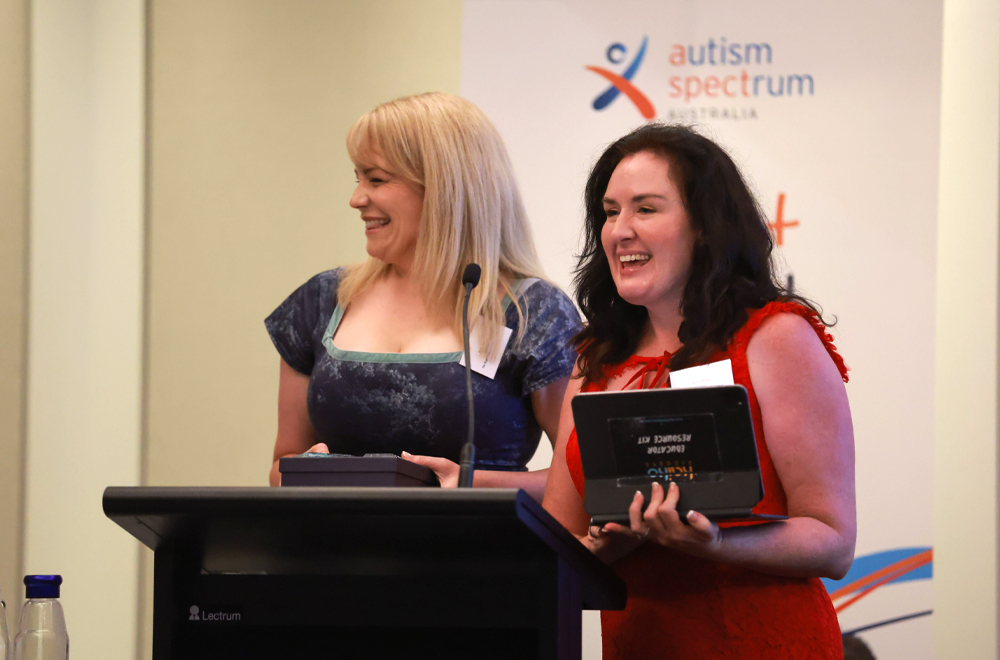 Winner of the Autism Community Award was Annie Lane from Whole Self Independent Life Learning that helps support autistic teenagers entering mainstream schooling. "Let's pull together as a united team and sing from the rooftops. Being autistic is normal and now the world has to catch up with us," she said.
The Autism Friendly Achievement Award went to West Tigers Rugby League Football Club, the only NRL club to establish a 'quiet room'. "Kids with autism and their families have the opportunity to enjoy a game of rugby league without being concerned about the space provided," CFO Mark Sawicki said.
The Parent/Carer Award went to Ellise Blondin-Andreacchio who was nominated by her son. "I am just one person that represents all of you walking alongside those they love every day. Not because you cannot carry it on your own but because you don't have to."
The ARCAP Research Award winner was Professor Josephine Barbaro from La Trobe University who has been developing a Social Attention and Communication Surveillance method to detect autism in infants and toddlers. This work has led to a number of positive changes in early support for people with autism and their families.
'A different brilliant' Youth Ward recognises an autistic person under the age of 21 who has made a significant achievement in any area of endeavour. The winner was autism advocate, public speaker, inclusion and education consultant, artist, Animal Assisted Learning program creator and facilitator, Summer Farelly. The 15-year-old Animal Therapies Ambassador also runs her own business, Autistic Perspectives, offering workshops to educate autistic students.
'A different brilliant' Adult Award went to Ella Azura Pardy an elite athlete who has competed in the Para Olympics, the Commonwealth Games and Para Athletics World Championships. The 31-year-old is an ambassador, mentor and public speaker for people on the autism spectrum helping to spread understanding, inclusivity and encouragement for people to live their best lives.