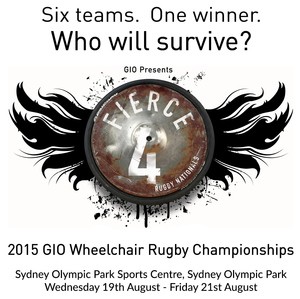 Let the Fierce4 be with you – the 2015 GIO Wheelchair Rugby Championships is a date not to be missed. Six state teams including one from New Zealand will battle it out for the first place trophy as Australia's national champions in Sydney in August.
The game which was founded in Canada in 1976 was originally called Murderball and while the name might be more sedate now the scene on the hard court is action-packed and a thrill a minute.
The teams selected for the final include: GIO NSW Gladiators, Asteron WA Enforcers, Suncorp QLD Cyclones, AAMI SA Sharks, Victoria Protect Thunder and Vero NZ Te Waka Hou.  On the final day athletes will compete for the Bronze Medal, Celebrity Match and Gold Medal Match, starting at 3.30. This elite event will take place at the Sydney Olympic Park Sports Centre from August 19 – 21.
For more information and to book visit: www.fierce4rugby.com.au