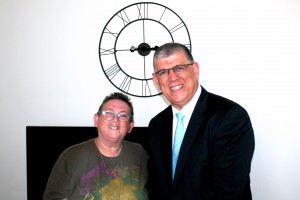 The Windgap Foundation has opened its seventh residence in Sydney for people with intellectual disability. CEO, Serhat Oguz said the new residence is a purpose-built space helping to provide a quality service to clients within a location that ensures plenty of community interaction. He said the aim of Windgap's services is to be as person-centric as possible. "This starts with listening intently, not dictating the dialogue, and responding appropriately to the needs, wants and aspirations outlined by the individual."
The new purpose-built home in Pagewood will house six residents and has wheelchair accessibility to all areas of the house plus disability friendly bathrooms and kitchen. As well as providing accommodation, the Foundation supports residents in other ways including assisting with travel and participation in a range of social activities, household duties, shopping and maintaining relationships with families. The home is staff 24 hours a day, 365 days a year by trained carers.
Windgap has been providing supportive residential services to people with disability for over 30 years in the Sydney eastern suburbs and currently accommodates 34 residents in its homes. The new residence was opened by the NSW Minister for Ageing and Disability Services, John Ajaka, pictured with Windgap resident, Gail.